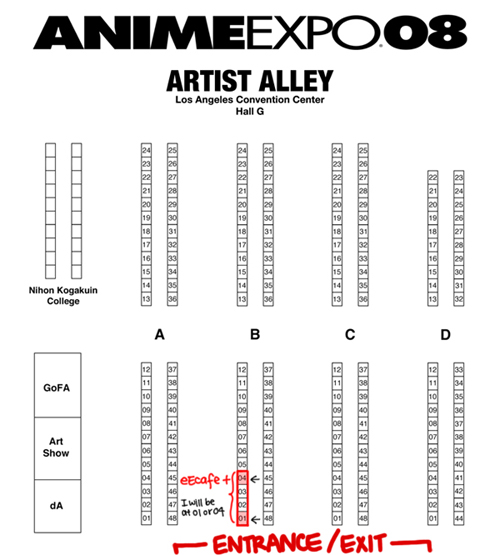 Our group,
eECafe+
, will be sitting at tables
B01-04
!!
Seating will be something like:
Table #1: Me. Alone. All by my lonesome self *hogs table*
Table #2:

and

Table #3:

and

Table #4:

and

If you're selling and have a table as well, let me know where you are! I'll mark it down and drop by when I'm wandering around on break time

...and hunt you down stalk you and steal all of your pretty prints MWHAHAHAHAHAH. No, I kid.
For everyone else, COME BY AND SAY HI!! I'll be bored out of my mind sitting at the table for 8 hours each day, so come and chat if you will 8DDD
I'll have some kind of guest book out, so sign away and leave your dA and I can check it out later :3
There will be a catalog available at the convention of all the artists attending AA this year. Each artist made a small graphic. Here's a preview of mine, heh heh 8D
Scratch out the "Air Gear" and replace it with "Ouran High Host Club" ;D
Here are the prints I will be selling at Artist Alley.
About all of them will be in sizes 5x7 inch and 8x12 inch. Some will be available in poster size 12x18 inch :>
I will also have tons of cheap mini prints of chibi characters and whatnot. And buttons, if I have time to make them. Lots of random crap, basically =_=;;
I'll probably have a ton of leftovers prints, so I'll be selling them here on dA after the convention 8D;;
(SOLD AS TWO SEPARATE PRINTS)
I'll probably have a few more drawings done by the time AX rolls around, so expect more coming *3*
(Unless I die of exhaustion first.)
SIX DAYS UNTIL PRINT DAY
. I am OH-SO-SCREWED.
Commissions Info
FAQs
100 Q&A for an artist
Where in the world are you?

Create your own visitor map!