...And so the picture parade continues 8D
The other people in my group uploaded the pictures they took xDD
I'm putting it up here for those who didn't get to go to AX...BECAUSE YOU GUYS TOTALLY MISSED OUT. WAHAHHAHAHAHAH- *shot*
It might take awhile to load. Teheheheh

Our group!!
HAHAHHAHA JIDO'S FACE IS PRICELESS. *dies*
...don't ask. >___>;; We were at the pier, it was so pretty at night *A*;;
Walking to dinner. Lobster penne pasta dinner next to the ocean, that is. *___* <33
Our pretty table! Me on left, Jido on right.
e1n and Eggy's table. And me butting in. My arm scares me, I don't think it's supposed to bend that way o_o;;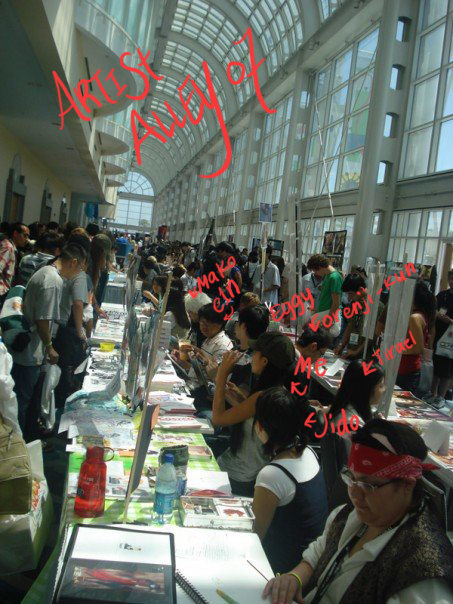 ARTIST ALLEY! <33333
e1n defending his precious prints. Eggy busy with his DS.
Eggy and his idol =B
Our beautiful cosplaying sisters, Jenny and Vicky, and...
...Kamaniki! So cute~ *faints*
ALL HAIL GLOOMY BEAR! This scene was insane, everyone got on their knees +___+
...and of course, I just needed a picture w/ him. <3 Gloomy.
Ahh. Anime Expo.


Out.
++++++++++++++++++++++++++++++++++++++++









+++++++++++++++++++++
___________________________

Commission/Prints info
</acronym>

ART SALE (originals)
</acronym>

FAQs
</acronym>

100 Q&A for an artist
</acronym>