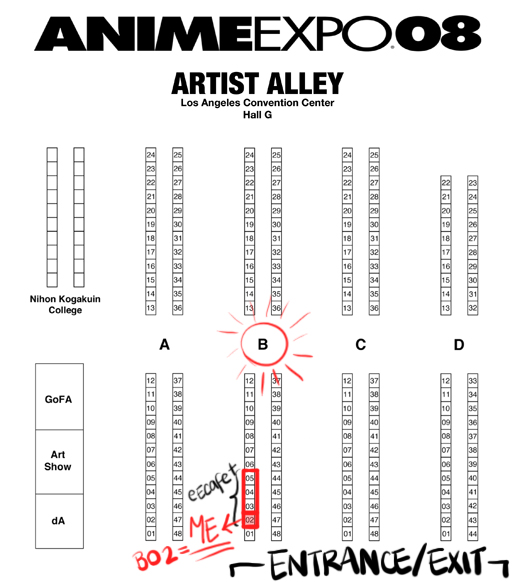 The seating was changed
, so instead of B01-B04, our group has moved one up to
B02-B05
: D I'll be sitting at B02 (or if not there, then B05).
Tables will be something like:
Table #1: Me. All by my lonesome self *hogs table*
Table #2:

and

Table #3:

and

Table #4:

and

In short, LOOK FOR A BIG PRINT STAND and BRIGHT MULTICOLORED TABLE CLOTH and a ASIAN GIRL WITH LONG HAIR. If you see a combination of those three, it's probably me 8D
If you're selling and have a table as well, let me know where you are! I'll mark it down and drop by when I'm wandering around on break time

...and hunt you down stalk you and steal all of your pretty prints MWHAHAHAHAHAH. No, I kid.
For everyone else, COME BY AND SAY HI!! I'll be bored out of my mind sitting at the table for 8 hours each day, so come and chat if you will 8DDD
MY PRINTS ARE ALL DONE. SHA-ZAAAAAM. I was so excited, I took like a bazillion pictures while I was tediously cropping and sorting them out.
The paper cutter of dooooom. I nearly lost a hand here.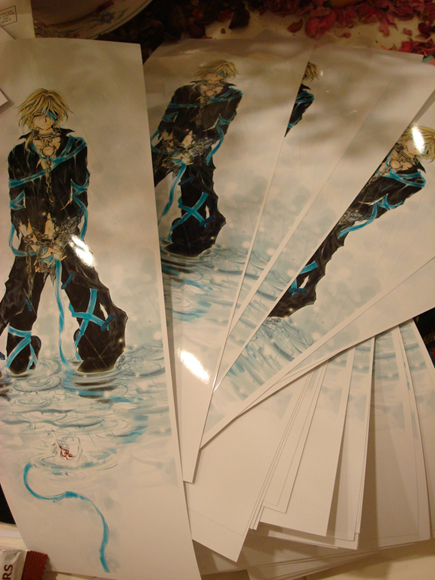 Mini prints : D
Name cards on the left, shiny Fai prints on the right *3*
These are most of the 5x7 inch prints I'm selling (the new Ouran picture wasn't printed yet). Too lazy to pull out all of the bigger stuff D:
A
limited 6x17 inch print
I'm selling of the combined Vampire Knight pieces. I'm selling the two pictures separately because they're too big, but I made only about 20 of these combined ones for fun. Come by and grab one early while they're still there :>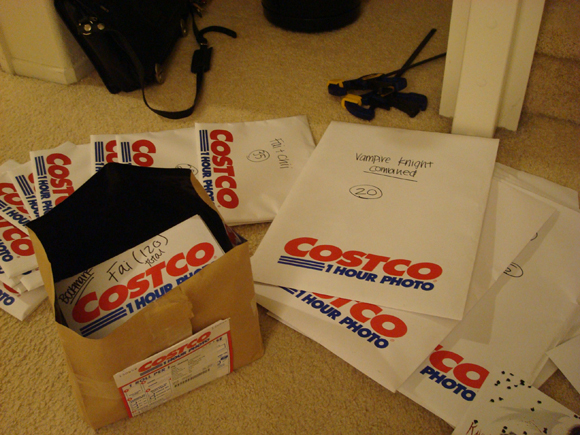 Costco is my hero. Cheap, fast, and awesome quality.
My seriously crappy name cards. But hey, they're free : D
THESE ARE MINE, HOHOHOHO. I stole one of each : D
Here are the prints I will be selling at Artist Alley.
About all of these will be in sizes 5x7 inch and 8x12 inch. Some will be available in poster size 12x18 inch :>
I will also have some cheap mini prints of chibi characters and whatnot. Lots of random crap, basically OTL;;
Mini prints (4x6 inch)
Regular prints (5x7, 8x12, and 12x18 inches)
(SOLD AS TWO SEPARATE PRINTS)
I'll probably have a ton of leftovers prints, so I'll be selling them here on dA after the convention 8D
TWO MORE DAYS UNTIL ANIME EXPO! See you all there!

Commissions Info
FAQs
100 Q&A for an artist
Where in the world are you?

Create your own visitor map!